Household Appliances/Cooking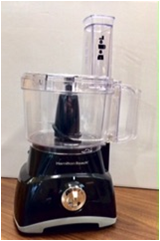 FOOD PROCESSOR
TL FOOD #2200051
Faster than cutting by hand, this Hamilton Beach processor can quickly chop onions, slice salad ingredients,
shred cabbage, grate cheese, mix sauces, or prepare pesto. It has an 8 cup capacity, 2-speeds plus pulse control,
and includes a stainless steel slice/shred disc and chopping blade.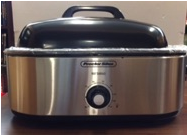 Oven Roaster
TL ROASTER #2200045
Double your oven space with this 18 quart roaster oven that is perfect for parties, holidays or anytime your main
oven is full. Enjoy moist and tender meats and delicious golden brown baking for potatoes, cakes and desserts.
It's attractive design goes from the kitchen to the buffet counter for serving stews, soups and other side dishes.
It has an easy lift-out rack for removing large items and a removable pan for easy clean-up.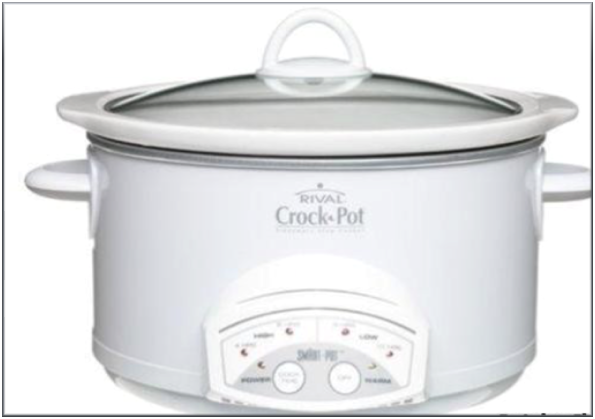 RIVAL CROCK-POT
TL CROCK #2200136
This gently used Rival "Smart-Pot" Programmable Crock Pot will make cooking a breeze.
Lots of recipes are included.
*USED BUT IN EXTREMELY GOOD CONDITION.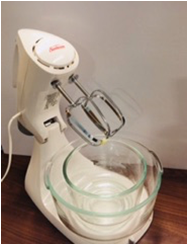 SUNBEAM MIX-MASTER
12-SPEED STAND MIXER
TL MIXER # 2200047
The Sunbeam Mix-Master has been helping cooks of all abilities prepare moist cakes,
light and fluffy meringue, and chewy cookies. It offers 12 mixing speeds, 2 different sized
glass mixing bowls, bowl-fit beaters and an adjustable turntable.
USED BUT IN EXCELLENT CONDITION!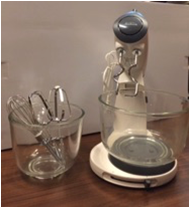 SUNBEAM MIX-MASTER STAND MIXER
TL MIXER #2200048
The Sunbeam Mix Master will help cooks of all abilities mix through everything from birthday
cake batters to breakfast breads and holiday sugar cookies to everyday mashed potatoes!
With a powerful 350-watt motor and 12 variable speeds, this mixer makes your kitchen work a breeze.
The mixer also includes a pair of chrome beaters, dough hooks, whisks, & 2 glass bowls (2-qt & 4-qt).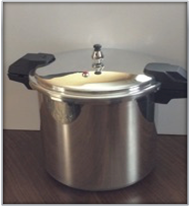 MIRRO PRESSURE CANNER
TL CANNER #2200044
This 22 quart pressure canner is fast and economical preserving foods up to 70%
faster than a water-bath canner. It is safe and easy to use with 3 separate safety features,
has variable pressure controls, holds up to 7 quart-sized jars and includes a recipe book.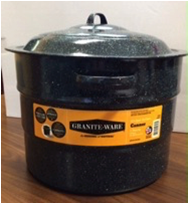 WATER-BATH CANNER
TL CANNER #2200050
This 3 piece water-bath canner includes the canner, jar-rack, and lid.
It holds 7 quart jars, 9 pint jars, or 12 half-pint jars.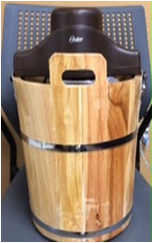 OSTER 4-QT ICE CREAM MAKER
TL ICEMAKER #2200038
Make delicious ice cream, frozen yogurt or sorbet at home with this electric ice cream maker.
It has a motorized electric crank, solid pine wood bucket and an aluminum mixing container to
prepare up to 4 QTs of tasty ice cream. Recipes are included!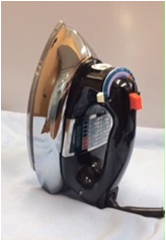 BLACK & DECKER STEAM IRON
TL IRON #2200052
This Black & Decker iron is a traditional steam iron. It features an on/off button,
easy-fill water tank, heavy duty aluminum soleplate, button groove, power indicator light,
3-way auto shut-off and a pivoting cord.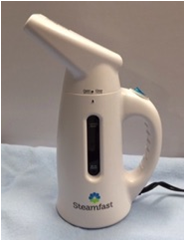 STEAMER
TL STEAMER #2200053
Caring for your garments is simple and hassle free with this deluxe compact garment steamer.
It is the chemical-free way to freshen and steam wrinkles from all your fabrics--at home or wherever you go.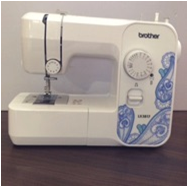 BROTHER SEWING MACHINE
TL SEWING #2200054
This Brother light-weight, full-sized sewing machine features 17 different stitches, 38 stitch functions,
auto-sized button-hole style, upper thread tension control dial, free arm for sewing cuffs and sleeves,
jam resistant quick-set drop-in top bobbin, easy bobbin winder, easy stitch selector, reverse sewing lever,
and a super bright LED-lit work space.